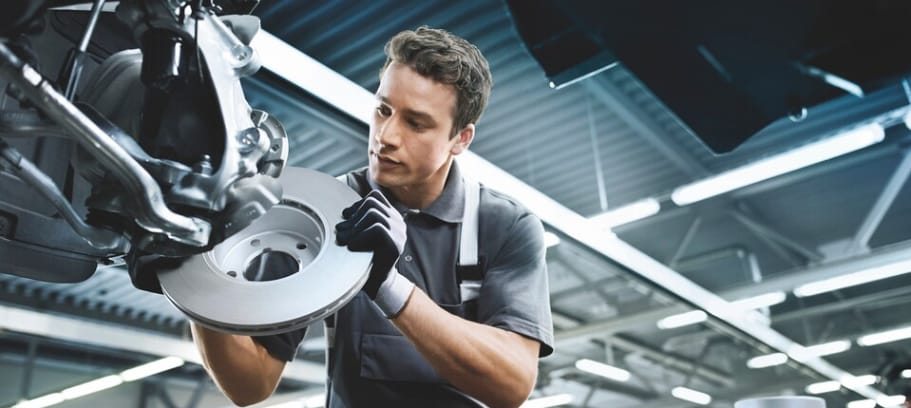 BMW Brakes in South Charlotte, North Carolina
Keeping up with your BMW's brakes is key for a reliable drive. However, it isn't always easy to recognize when you should have them replaced. That's why an inspection from one of our experienced mechanics in South Charlotte can offer important insights into their condition and precisely determine if any brake replacements are needed.Unlike other BMW maintenance services - such as
tire rotations
,
battery replacement
, or
oil changes
. There is no concrete recommendation for BMW brake changes. 
Don't wait until the warning light turns on, get peace-of-mind starting today.If you're a proud owner of a BMW, brakes are an essential part of your car. With routine maintenance and soft control over braking,
each set is capable of lasting up to 50k miles
; whereas if taken for harsh rides or hilly terrains, expect around 20K.
At our South Charlotte store
, we'll provide reliable service with expertise, helping extend the life expectancy further than just brake pads.
How Do I Know I Need To Get My BMW's Brakes Serviced?
Maintaining your BMW is an integral part of achieving optimal performance and safety. Paying attention to the brakes on your car should be a priority, as it's one of the key elements for driving smoothly.Signs you may need new brakes include: scraping noises when braking; limited response time; odors after applying brake pressure; or dashboard lights illuminating. 
Our dealership can provide
diagnostic tests and inspections
so that we can assess if replacing any components are necessary. Keeping your BMW in top condition will ensure its thrilling drive persists!Some other red flags to keep an eye out for: A grinding or squealing sound when you apply the brakes, a lag or spongy response when you try to brake, a sudden burning odor appears after applying the brakes frequently, or any
BMW brake warning light
.
Don't wait-
Let's get in touch today
if you suspect that something may be wrong with your car's braking system.
BMW Brakes Specials Near South Charlotte, NC
Need brake repairs for your BMW near South Charlotte? Hendrick BMW Certified Pre-Owned South Charlotte has everything you need to keep your Beamer running like new! Our professional service and repair center is the
top-rated
in its area, providing fast diagnostic services to get your vehicle up and running. 
With
certified advisers on hand ready to help
, we offer an unmatched level of customer service. Perfect for any car owner looking to trust their brakes with a reliable shop. Experience industry leading auto care today at Charlotte's go-to spot: Hendrick BMW Certified Pre-Owned South Charlotte!
Why Choose Hendrick BMW Certified Pre-Owned South Charlotte To Service Your BMW's brakes
At Hendrick BMW Certified Pre-Owned South Charlotte, our Service Center provides more than just a quick fix. Our experienced technicians are dedicated to providing the finest repair services for your luxury BMW without compromising on quality or accuracy in diagnostics and repairs.
We help save you both time and money, so why not get it taken care of before the issue gets worse? Get in touch today to make an appointment with us online or by phone. Whether it's for a multi-point inspection or brake replacement service, we have got you covered.
Find BMW Brake Repair Near Me
It's no secret that your vehicle's brakes are a major factor in its overall safety, performance, and longevity. When looking for BMW brake repair near me. Don't settle for just any service, trust the certified BMW experts at Hendrick BMW Certified Pre-Owned South Charlotte! Our factory-trained technicians have all the training necessary to handle any brake situation you may encounter with your car.




Plus, take advantage of our great

coupons on select services

so you can save even more while receiving superior care from an authorized BMW Service Center in South Charlotte today.

Schedule an appointment

or contact us now to learn more about how we keep drivers safe, mind and wallet intact.
Frequently Asked Questions About BMW Brakes
How Much Are BMW Brakes?
The price of
BMW brakes
will vary revolving around on each specific part you will need and the year and model BMW you have. For more info, please call
(704) 307-2270
or
contact us
with those details and we will be happy to get you a price!
How Do You Reset the BMW Brake Light?
Malfunctioning brake lights are not only an eyesore, but can be a safety hazard. If you have a BMW and your brake lights turn on, our recommended course of action is to
bring it in for inspection
at any Service Center right away. 
After everything checks out safely with the brakes all set - follow these steps to reset the light: insert key or fob into ignition while turned off; move key forward 1 notch
(this should keep car from running)
& open driver's door; wait around 10 seconds and voila! Brake light's back to normal again.
How Long Do BMW Brake Pads Last?
Driving style, terrain and frequency all contribute to varying lifespans for
BMW brake pads
. Generally they will last anywhere between 20k-70k miles if driven gingerly, though the actual number depends on your car's model and year. To be sure, we suggest you check in with an authorized
BMW Service Center
or your owner's manual for specific maintenance requirements.
Who Makes BMW Brakes?
BMW actually does not  make their own braking systems. BMW utilizes 3rd-party suppliers to make the highest quality parts within their braking systems. Please contact us if you have questions regarding what part your specific BMW model needs.
Hours
Monday

9:00AM-7:00PM

Tuesday

9:00AM-7:00PM

Wednesday

9:00AM-7:00PM

Thursday

9:00AM-7:00PM

Friday

9:00AM-7:00PM

Saturday

9:00AM-5:00PM

Sunday

Closed