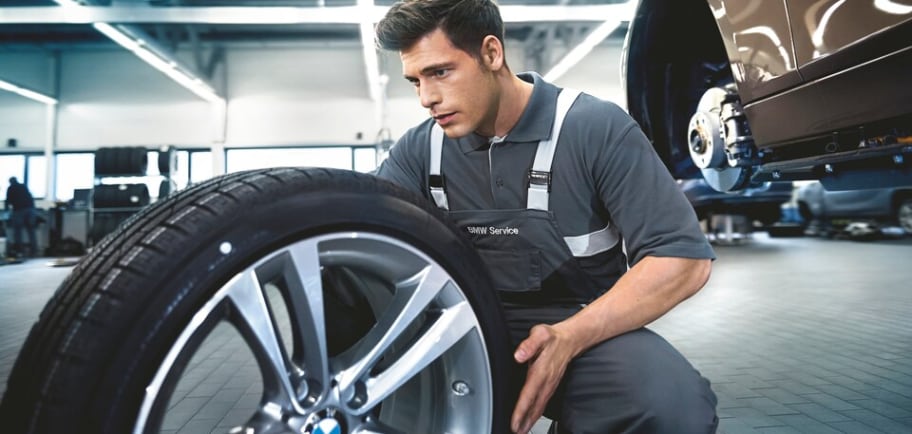 New BMW Tires And Car Maintenance Services In Charlotte
Your tires are the foundation on which your BMW stands. They create a stable ride while ensuring maximum performance and response time, all without compromising comfort or efficiency.
Invest in quality now
to make sure you have smooth sailing ahead. 
Productivity - Enjoy the luxury of saving money on your BMW? It's easy, just keep those tires properly aligned, balanced and pressurized for maximum efficiency in fuel consumption. Investing a little time now can have long-term benefits down the road!
 
Traction - Ensure for a reliable journey no matter where you go. Discover the power of control as you experience top-notch traction with your BMW tires.
 
Effectiveness - Experience the confidence of improved control behind the wheel thanks to comfortable treads and perfectly pressurized tires.
 
Responsiveness - Achieve complete control of your driving experience with tires that respond quickly and accurately to every twist and turn.
 
Comfort Level - Get the most out of your BMW experience with consistent balance, tread, tire pressure and alignment optimization, ensuring a smooth ride that won't let you down.
Neglecting these important aspects can negatively affect performance by leading to pulling in different directions or an uncomfortable vibration when going over uneven roads. These several reasons listed above, the brand, type, and size of tire are all vital for your BMW.
BMW Tire Replacement Services In South Charlotte, NC
Ensure your BMW is getting the best tire care with a free inspection from Hendrick BMW Certified Pre-Owned South Charlotte. OEM tools used by
factory-trained technicians
mean quicker and more accurate
BMW tire replacement
servicing
than an independent center. While special warranties are available, you won't find them elsewhere. Plus, our experts may repair damaged tires instead of replacing them, saving both time & money with one efficient appointment at Hendrick CPO South.Are your BMW's tires showing signs of wear and tear? From sidewall punctures to tread depth lower than 5/32 inches, it may be time for new rubber. At Hendrick BMW Certified Pre-Owned South,
we offer free tire inspections
so you can rest assured that the best solution is always taken. Or our highly experienced technicians will personally diagnose what needs attention.Why wait until dangerous driving conditions occur before replacing them? Consult your owner's manual now and
schedule a tire inspection
today.
BMW Tire Rotation Services
Rotating your BMW tires regularly is essential for keeping it in excellent condition. Frequent rotations will give you a better ride and also help to prolong the life of your BMW tires. Be sure to keep up with the
recommended service schedules
for any warranties you have, making sure to include regular tire rotations for your BMW. Don't procrastinate when it comes to getting a tire rotation, drive to Hendrick BMW Certified Pre-Owned South Charlotte.We make sure every job gets done right while offering only the most modern luxury services available to keep up with all aspects related to maintaining your vehicle's performance and safety standards.
Book now online
or call us at (
980) 365-8788
for more information about our tire rotation offerings.
When Do I Need To Replace My Tires?
Wondering if it's time to get new tires?
Inspect your vehicle right away
. Be sure the spare tire is inflated and functioning correctly. If there's no visible damage, head straight to a professional for an in-depth assessment of all four wheels.
 
When it comes to your tires, regular inspections are a must - Make sure the treads don't show signs of excessive wear or balding; check for any foreign objects embedded like rocks and nails; take note if there's damage anywhere on its surface or valve stem caps - they all show that replacement is necessary.
 
Don't risk further damage to your vehicle - if you sense a vibration coming from your tires, inspect them immediately. If tire wear is visible or the source of the uneasiness cannot be identified by an eye-test, take it in for professional inspection with a reliable dealer.
 
Visit our BMW dealership - If you notice anything you're unsure about during the inspection, please have it examined by our tire technicians. We can help assist you by identifying potential issues and finding an affordable solution.
BMW Tire Replacement in Charlotte at Hendrick BMW Certified Pre-Owned
When you roll through into Hendrick BMW CPO with worn-out tires, we regularly launch with a detailed inspection. Don't forget to
leave us a review
, after we install your BMW tires! If your tire is repairable, then one of our tire technicians will locate the torn area, seal the inner liner, and double-check for leaks before re-mounting the tire. We are easily located at
9029 South Blvd, Charlotte, NC 28273
. If the tire can't be repaired, we will help you find the finest replacement.
Hours
Monday

9:00AM-7:00PM

Tuesday

9:00AM-7:00PM

Wednesday

9:00AM-7:00PM

Thursday

9:00AM-7:00PM

Friday

9:00AM-7:00PM

Saturday

9:00AM-5:00PM

Sunday

Closed
BMW Tire Replacement & Repair Service FAQs
How Often Do I Rotate Tires On My BMW?
Keep your BMW running smoothly by adhering to the recommended tire rotation intervals. It's generally every additional
oil change
, or in 5,000 mile increments. Make sure you're aware of any recommendations specific for FWD vehicles as front tires typically wear out twice as fast. Get ahead and ensure a longer-lasting tire life. Call us now to schedule tire rotation or refer to your car manual today.
How Much Are BMW Tires?
If you're looking for the best tires to drive your BMW with style and comfort, look no further than Hendrick Certified Pre-Owned South Charlotte! Offering a variety of top quality tire options, ranging from budget friendly traditional models between $150 - $350 per tire up to luxurious high performance varieties priced well over $500; our trained advisors can help find the perfect fit. Plus, score
great discounts & deals
when you order through us today.
How long do BMW tires last?
Do you want to ensure your BMW tires last for as long as possible? Perform regular maintenance and get a free tire inspection at Hendrick Certified Pre-Owned South Charlotte. Depending on the type of tire, driving habits, and average miles driven per year (12k-15k), an average tread wear should reach 3 years, with some variations depending on usage. Start optimizing your car's performance by extending its life expectancy now. Invest in improved care by
scheduling an appointment
today.