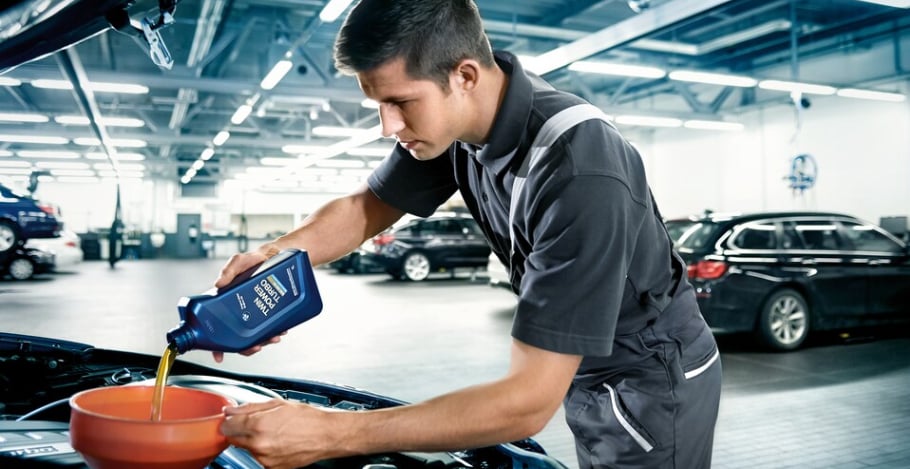 BMW Oil Change In South Charlotte
We understand how special your BMW truly is. That's why we provide premium
oil change services in South Charlotte
for a wide range of BMW vehicles. No matter if that'd be full synthetic, high mileage, synthetic blend, or conventional oil. Our auto professionals will get your
BMW oil change
done in a short time. You'll know that you're receiving the highest quality care for your vehicle at our
BMW Service Center
near South Charlotte, NC.
Every engine demands oil to perform dependably, but we can't just dump in any oil. The car industry has worked hard to standardize the oil quality of today's engines, helping to extend the vehicle's lifetime. Utilizing the wrong oil can damage the condition of your BMW, as well as potentially invalidating the new-car warranty.
Get Your Next Oil Change Servicing In South Charlotte, NC
Having a difficult time finding
oil changes near me
for your BMW? When you need to service your new or
used BMW car
, truck, SUV,or SAV,
schedule your service at BMW of South Charlotte
. Hendrick BMW Certified-Pre-Owned South Charlotte Service Center is open Monday through Saturday and is located at
9029 South Blvd, Charlotte, NC 28273
. Our service team is here to assist in all your vehicle's needs.
If you routinely drive under extraordinary weather conditions or frequently go off-road, we highly suggest visiting our service center. The major benefits of staying up to date with your
BMW oil change
include the following:
 
Ensure That There Are No Pollutants In Your Engine
 
Ensure That Your Engine Does Not Overheat
 
Ensure Engine Parts Are Lubricated
 
Ensure Certain That Your Engine Runs At Maximum Power
What are the prices of a BMW oil change?
$99.95
  - All BMW vehicles with either 4 or 6 cylinders are included in the Value Service Program.
$129.95
- All 8-cylinder BMW models covered in the Value Service Program.
$179.95 -
The Value Service Program encompasses all BMW M and diesel models.
At BMW South Charlotte Oil Service
, we'll keep your car running smoothly with the use of premium synthetic BMW oil. Our
Value Service Program
covers a variety of models and includes parts, labor, and oil - no topping off diesel emission fluid required! Plus, our competitive prices include shop supplies as well as taxes and any additional costs for added convenience.
How Often Do I Need to Change My BMW's Oil?
Changing your BMW's oil depends on a variety of factors like the vehicle's age, time between oil changes, type of oil, and overall driving conditions.
The age old 3,000 miles standard is outdated!
Today's engines use modern lubricates that can get between 5,000 and 7,500 miles between oil changes.If your BMW's engine calls for full-synthetic motor oil, then you can get up to 15,000 miles between oil changes. We cannot determine engine oil condition by color, so follow the
factory maintenance schedule
for oil changes.
Types of Oil Changes From Oil Change Services In South Charlotte
Establishing the right oil to use is not always straightforward. Specific oil is required for your make and model of BMW to satisfy the performance standards set by the
API
,
ACEA
, and/or
ILSAC
, as well as adhering to any stipulations set up by the engine manufacturer or automaker. It also must have the proper SAE viscosity grade.BMW details these stipulations in your vehicle owner's manual, and
our auto repair mechanics
will equip you with information on your vehicle's approved oil specifications. 
---
| | | | |
| --- | --- | --- | --- |
| Conventional | High Mileage | Synthetic Blend Oil | Full Synthetic |
| Efficient protection | Uniquely designed for engines over 75,000 miles | Higher quality protection | Best protection |
| Efficient performance | Helps restore worn and leaky seals | Higher quality performance | Best performance |
| Efficient sludge protection | Helps replenish lost compression | Higher quality cleaning | Better cleaning |
| | Helps cut down on oil consumption | Higher quality fuel economy | Best fuel economy |
| | | Safeguards in temperature extremes | Safeguards in temperature extremes |
---
Conventional Oil:
 
Many motorists prefer the least expensive conventional motor oil, especially when they're not consistently traveling under severe conditions, such as operating on pot-hole filled roads, wet roads, lots of short trips, towing heavy loads, and driving in extreme cold or hot weather.
High Mileage Oil:
 
Specifically produced for vehicles that have driven over 75,000 miles. It upholds engine longevity, reduces oil leaks, and aids in reducing oil burn-off.
Synthetic Blend Oil:
 
This mix between synthetic oils and conventional ones helps protect and increase performance compared to regular conventional oil. This is a good choice for motorists operating in extreme driving conditions, but not as competent as a full synthetic oil.
Synthetic Oil:
 
A.K.A. "Full Synthetic Motor Oil". This motor oil is developed to provide the highest levels of protection and performance. There is an ever increasing list of vehicle manufacturers that require it today, see if yours is one of them.
Old Cars Vs New Cars | Recommended Oil Change Intervals
It's common for modern cars to require fewer trips to the mechanic for maintenance than previously. This is due to the fact that they use a multi-grade, full-synthetic, low-viscosity, synthetic-blend, or resource-conserving oils that minimize friction and increase fuel economy.
Oil Change Intervals For Older BMW Cars
Older BMW's oil change intervals are linked with mileage, and have two methods of preservation, one for BMW's driven in "ordinary" conditions and another for drivers operating in "extraordinary circumstances." To get into the second group, your BMW must be driven under one or more of the following conditions:
 
Hauling heavy loads or towing a trailer
 
Constant stop-and-go driving (AKA City Driving)
 
Primarily brief trips that are around 5 miles or fewer
 
Extremely cold, hot, or dirty climates
If you're driving in one or more of these extraordinary circumstances, then be sure to get it serviced within the
suggested schedule intervals
chart.
Oil Change Intervals For Newer Cars
With technology continuing to advance,
newer BMWs are outfitted with oil-life monitoring systems
that take into account the actual running conditions of your vehicle. This system will know when it is time for an oil change and notify you via a
message on the dashboard
. Long gone are the days of having to remember intervals based solely on mileage and time; as these new machines track exactly what kind of service they need. Owner's manuals also often leave out severe use recommendations because this modernized process can handle such occasions accordingly.
With modern engines being this efficient, oil changes come more seldom. Most modern BMW engines only utilize less than a quart of oil between changes. This means most BMWs only need as little as a quart for every 600 to 700 miles. 
Upholding to the appropriate oil levels will help in sidestepping expensive auto repairs; your new-car warranty may not cover wear & tear on your engine resulting from inadequate levels of oil. Many automakers suggest an oil change every 12 months if you're only driving locally. They still recommended changing out your vehicle's oil even if the check engine light has yet to light up.
Full-Service Oil Change Near Charlotte, NC
Monitoring plus
proper maintenance
for your BMW's oil levels is important for long-term health. You can prevent your engine from producing too much heat by being consistent with BMW oil changes and keeping it lubricated. Older oil creates wear and tear on the engine and eventually halts it from functioning properly, which may limit the longevity of your vehicle.
The Benefits Of Getting Your Oil Change At BMW of South Charlotte
Get the most out of your precious BMW with an oil change at Hendrick BMW CPO of South Charlotte. Whether you're doing it yourself or taking advantage of
our state-of-the art facility
, getting a regular oil change will reset your vehicle's service interval indicator as well as keep its performance up to date.
Our experienced technicians are here and ready to help,
book online today
for fast and secure scheduling; contact us directly if you'd like assistance with maintenance cost estimates in advance.
With every oil change at Hendrick BMW CPO of South Charlotte, our service technicians will reset the oil-life monitoring system. If you decide to change your own oil, you can reset the system by looking at the instructions within the BMW owner's manual.
Hours
Monday

9:00AM-7:00PM

Tuesday

9:00AM-7:00PM

Wednesday

9:00AM-7:00PM

Thursday

9:00AM-7:00PM

Friday

9:00AM-7:00PM

Saturday

9:00AM-5:00PM

Sunday

Closed
BMW Oil Change FAQ
Can I Get My BMW Oil Changed Anywhere?
Yes, you can take your BMW to any mechanic shop that provides oil change services to have its oil changed. However, we highly suggest that you bring your vehicle to our BMW Service Center in South Charlotte to ensure it's getting the best vehicle care and serviced with only high-quality oil that is made specifically for your BMW.
Reach out to us today
to book a service appointment.
Do You Have Oil Change Service Coupons?
Yes, we usually have a sale that applies to oil change servicing. Please redeem this special via text or by printing one of our
oil change coupons
to use during your appointment.
How Expensive Is An Oil Change For My BMW?
The cost for a BMW oil change revolves around the oil type your vehicle takes, the year, and the BMW model. To learn more about BMW oil changes, contact us online or give us a call at
(980) 474-4507
today!
What Type Of Oil Does My BMW Need?
The motor oil your BMW requires depends on the year, model, and trim that you own. Find the answer by referring to the owner's manual in your BMW, or easily stop by our
BMW dealership
and our service technicians will be happy to help you!